An astonishing 98-hour run time under GLACIER's Eco mode with
EcoFlow RIVER 2 Pro and the Plug-in Battery connected!
Fresh food and cold sodas within reach for more than 4 days.
Whether you're in an SUV, pick-up truck, RV, or tent, you can never get hangry!
Industry's first integrated ice maker.
Equipped with a powerful 120W compressor, it brings you 18 solid ice cubes in 12 minutes.[1] For all the spine-tingling moments along your journey, spice them up with chilled sodas.
A fridge-freezer at its best.
Equipped with a removable divider separating it into two zones, and independent temperature control, both sections can refrigerate and freeze from 50°F (10°C) to -13°F (-25°C). Steak, cheese, or soft drinks...whatever you want to stock up on, it shape-shifts to meet your needs.
The fastest cooling in the industry.
Cooling at the optimum speed when empty, GLACIER rapidly refrigerates from 86°F (30°C) to 32°F (0°C) in around 15 minutes.
Cooling for up to 40 hours wire-free.
Designed for absolute portability, GLACIER can be powered by the Plug-in Battery[2] and free from messy, limiting cables.With a large battery capacity of 298Wh, savor up to 40 hours[3] of easy access to frozen meals, fresh fruit, and ice-cold beverages.
Charge laptops and more on the go.
With 100W max USB-C charging, it even powers up your phones and laptops so you'll never lose touch with your loved ones.
Fastest charging speeds ever.
RIVER 2 Pro beats the industry charging speed standard, fully charging in only 70 minutes.That's 5x faster than other portable power stations on the market and 27% quicker than previous generations.Fully charge RIVER 2 Pro while you pack your bags, so you'll always be ready for a last-minute trip.
Safe, for up to 10 years of use.
LiFePO4 Battery Chemistry
With upgraded long-lasting LFP battery chemistry at its core, charge and empty RIVER 2 Series over 3000 times.That's pretty much 10 years of everyday use* and 6x longer than the industry average.With LFP cells, the RIVER 2 Series is safe, durable, and highly efficient, even in warm temperatures.
*Using RIVER 2 Pro six times a week, 3000 full 100% cycles will last 9.6 years until it drops to 80%.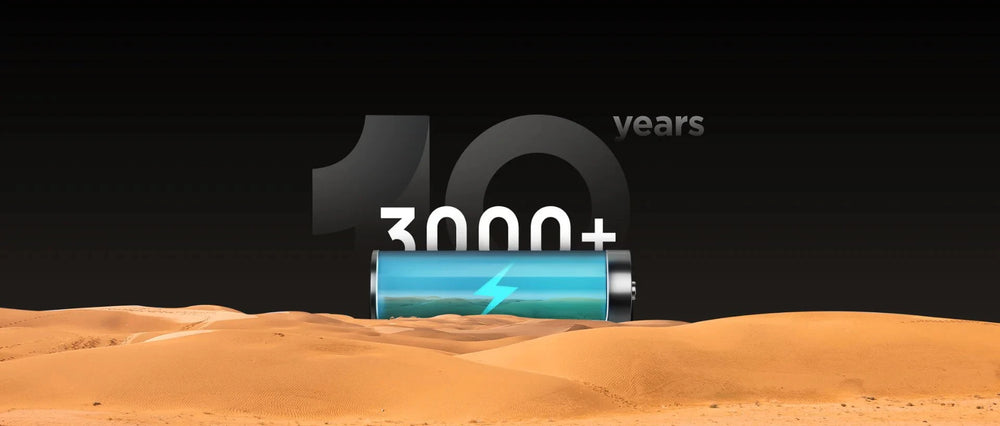 Small size. Big power.
RIVER 2 Pro has an AC output of up to 800W. Need to power a hair dryer, microwave or electric kettle? Crank it up to 1600W with X-Boost mode to run up to 80% of high-wattage home appliances.
Take Charge With SolarCharge Anywhere.
RIVER 2 Pro Solar Generator produces up to 1.8kWh daily, which means sufficient power to run your essential home appliances smoothly for almost half a day. Sudden power outages? You'll always be ready. Using RIVER 2 Pro Solar Generator every day decreases your whole-year carbon emissions by about 143kg. That's like planting 8 trees in a year!*
*Based on an average carbon emission of 0.371kg/kWh and an average sunshine duration of 6 hours/day.
1. The test result was gained with the ambient temperature of 77℉ (25°C) and water temperature of 59℉ (15°C). The first round of ice making might take longer than 12 minutes.
2. Plug-in Battery is sold separately.
3. The test result was gained with the fridge empty, its temperature set to 39℉ (4°C), and the ambient temperature of 77℉ (25°C).

SPECS
Operational Volume
Single zone: 38L (40 qt.); Dual zone: 36L (38 qt.)
Dimensions (wheels and handles not included)
776 × 385 × 445 mm / 30.6 × 15.2 × 17.5 in
Refrigeration Temperature Range
–25°C to 10°C (–13°F-50°F) (ambient temperature at 25°C)
Noise Level (stable operation)
Ice making: <52dB; Refrigeration: <42dB
Quick Freezing Mode (86 °F to 32°F)
Refrigeration Power Rating
Wi-Fi
This product supports 2.4G Wi-Fi only